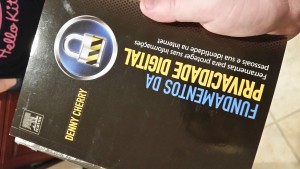 I'm please to announce that Basics of Digital Privacy is now available in Portuguese.  Based on the package that I just received from the publisher someone from the Brazilian branch of the publisher liked the book enough that they took their option to publish the book in Portuguese as well as English.  This makes the book available in Brazil in their native language opening the book up to another 200+M potential readers.
I welcome these new readers of the book (and hopefully this blog, which is only published in English, sorry about that) and hope that they did a good job translating the book so that it makes sense in Portuguese.
Getting a book translated into another language is a first for me.  All I can say is that it's pretty cool that someone feels that my work is good enough to take the time and money to translate it into another language.
Dennyhttp://basicsofdigitalprivacy.com